We are delighted to announce that another d.HOLIDAY conference has concluded with great success. Held on 2 November in Málaga, Spain, this year's event saw patient associations, medical professionals, holiday dialysis experts and d.HOLIDAY coordinators from 22 countries across the world come together to connect, collaborate and engage in conversations around holiday dialysis travel - the essence of our d.HOLIDAY programme, which offers life-enhancing holiday dialysis experiences to CKD patients.
Running under the title "A world of possibilities", the event included presentations by Diaverum's senior leadership team and special guests, lively networking sessions as well as an opportunity to visit the Diaverum Málaga clinic.
During his opening presentation, Dimitris Moulavasilis, President & CEO for Diaverum, greeted delegates and shared a fascinating insight into how Diaverum's continued focus on patient-centric digital innovation to deliver personalised, standardised, efficient and high-quality care is shaping the future of renal care & patient empowerment. José María Ordóñez Martí-Aguilar, Country Managing Director for Diaverum Spain, followed with an in-depth overview of d.HOLIDAY's presence in the country, and why Spain should be a top-of-mind tourist destination to CKD travellers around the world.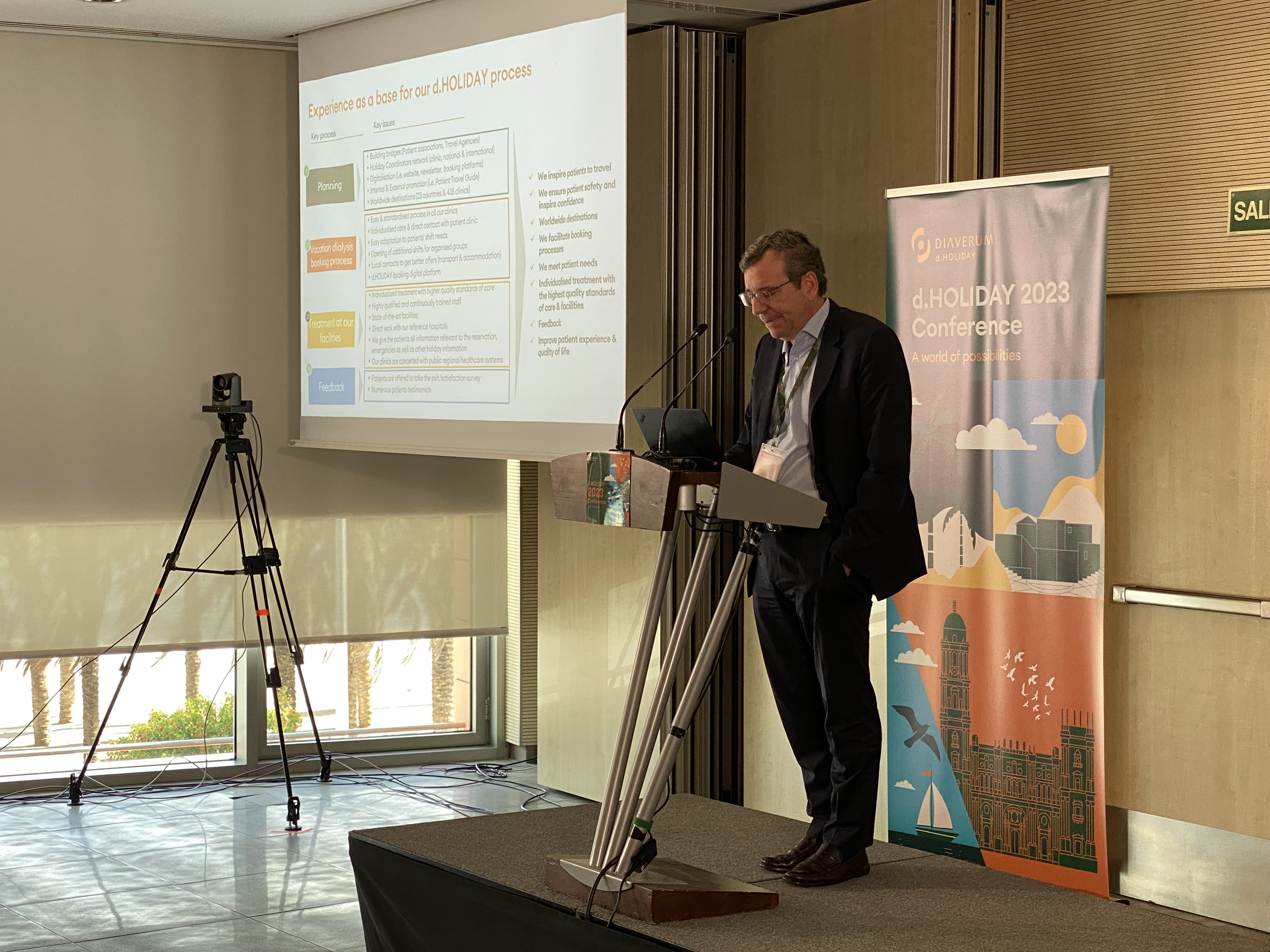 JOSÉ MARÍA ORDÓÑEZ MARTÍ-AGUILAr, COUNTRY MANAGING DIRECTOR FOR DIAVERUM SPAIN, ADDRESSES DELEGATES
Other key event speakers included Dr Domingos Machado, Diaverum's Transplant Ambassador, who shared his personal experience on what transplantation means to Diaverum, CKD patients and himself. Domingos, deeply driven by True Care, saved the life of a renal patient by becoming a kidney donor last year – a noble deed that was also recognised in the 2023 Diaverum Awards; Colin White, President for the European Transplant & Dialysis Sport Federation gave a presentation titled "United through travel and sports", which examined the benefits of sports activities, alongside holidays', for the well-being of CKD patients.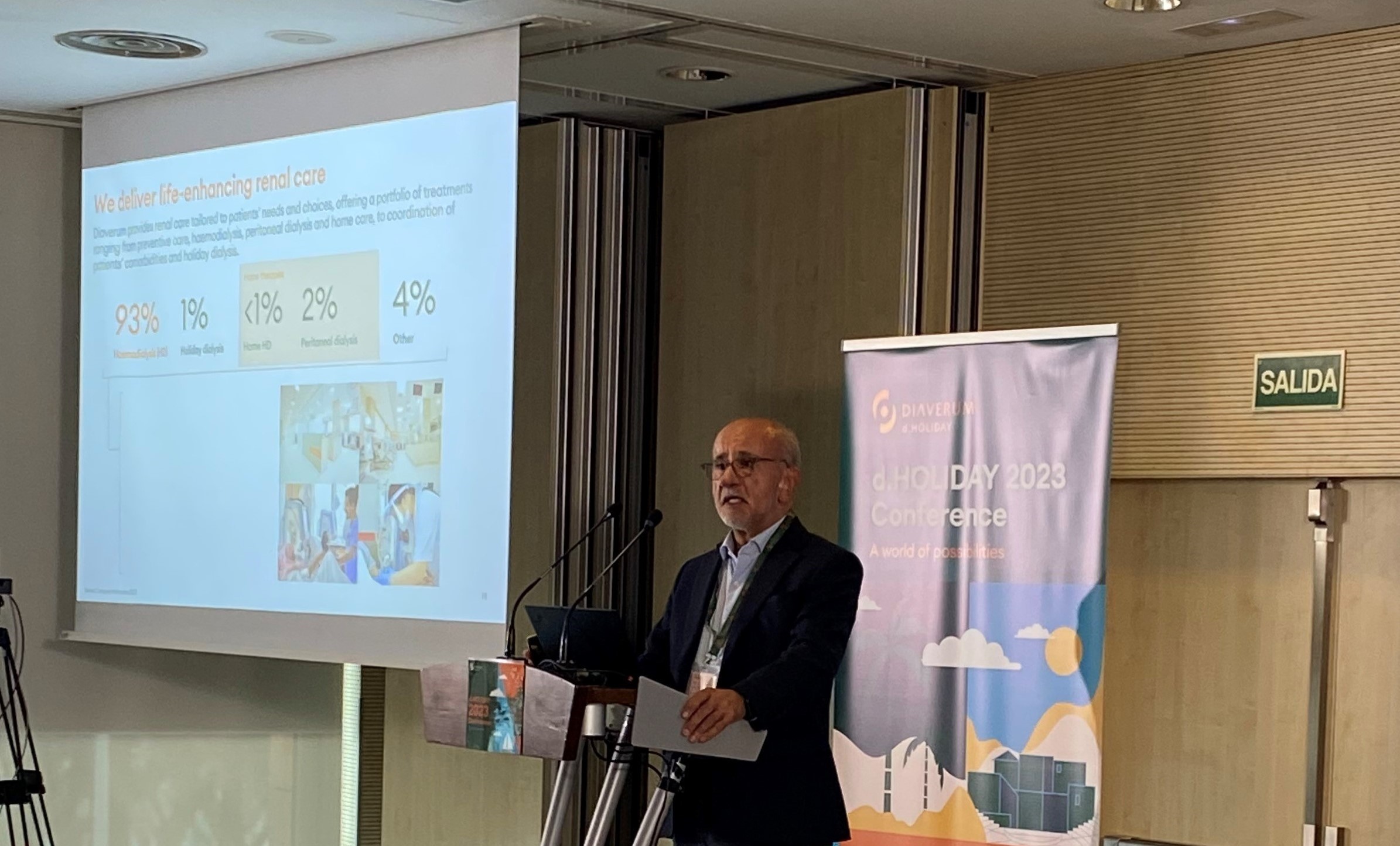 dr domingos machado, diaverum's transplantation ambassador, addresses delegates
The global d.HOLIDAY leadership team shared exciting updates regarding the programme; Michaela Blomstrand, Global Director Patient Experience and Stakeholder Management, offered delegates an exclusive preview on new d.HOLIDAY travel products expected to launch before year-end, while Elenor Mårtensson, Global Customer Manager, closed the Conference with an engaging overview of d.HOLIDAY and the wealth of benefits it offers to CKD patients.
In addition to hearing from presenters, delegates, both virtual and in-person, had the opportunity to connect and learn from one another in a series of interactive workshops.
Dimitris commented on the event's success: "I am delighted to have had the opportunity to meet and connect with our long-standing partners and colleagues from around the world, who work tirelessly to deliver on our mission to help patients and their families live their lives to the fullest through travel".
"I am incredibly proud of our d.HOLIDAY programme - not only is it a superior product that caters for all aspects of holiday dialysis, empowering patients to enjoy a revitalising experience, it's a reflection of our True care culture and everything it stands for. My thanks and congratulations to our host nation, Spain, and the global d.HOLIDAY team, for the successful execution of this conference".
Commenting on the Conference's significance, José María said: "With Spain being the first location where Diaverum (then known as Gambro) began offering holiday dialysis treatment in 1978, we are extremely honoured to have had the opportunity to host this year's event and present everything that Spain has to offer as a holiday destination for CKD patients".
For her part, Michaela added: "It was an absolute pleasure to connect with our partners for the 12th year, with a clear objective of enabling CKD patients to live fulfilling lives through travel. It was especially exciting to share exclusive updates on our upcoming travel products – stay tuned to learn more".