Medical and Nursing management representatives from Diaverum's global network recently came together for the 2023 Annual Medical Meeting. Held over two days, the Meeting took place in Riyadh, Saudi Arabia, one of Diaverum's flagship markets.
Presided over by Diaverum's CMO, Dr Fernando Macário, the Annual Medical Meeting is a key date in the organisation's calendar, offering an active and engaging forum in which delegates from 23 markets and the Corporate team had the opportunity to discuss the clinical, digital and scientific research strategies that position Diaverum as a leading global provider of renal care services.
Key topics addressed in the meeting included:
Day one: Tuesday, 10 October
Following Dr Macário's opening remarks and welcome, Diaverum's CEO, Dimitris Moulavasilis, greeted delegates and provided updates regarding the company's performance in 2023. This was followed by a detailed analysis of Diaverum's medical performance over the past months, and progress made within areas for strategic development, specifically clinical strategies, medical outcomes & governance. The Corporate Medical team also shared updates on the care delivery model, CPM performance, digitalisation and AI, and on several exciting projects & initiatives that are in the pipeline.
Country representatives from Germany, Kazakhstan, Romania and Saudi Arabia then shared insights on potential pathways for Diaverum's future clinical strategies. The day closed with the 2023 Diaverum Awards Finalists' Ceremony, which was live-streamed to each of Diaverum's 23 countries worldwide.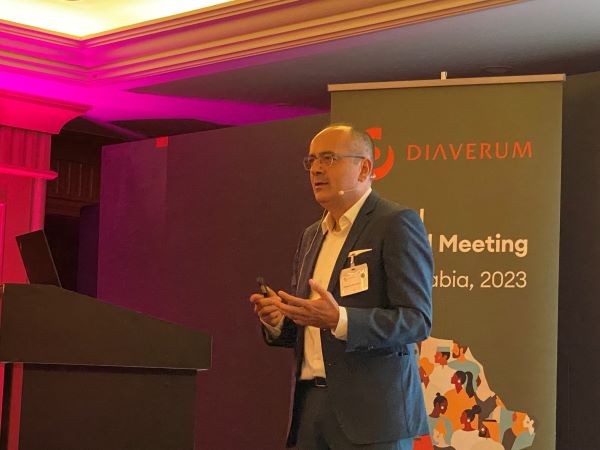 CEo Dimitris Moulavasilis, addresses delegates
Day two: Wednesday, 11 October
Day two opened with an extraordinary presentation from guest speaker, Prof. Faissal A.M.Shaheen, Co-chairman of the WHO Task Force for Organ and Tissue Donation & Transplantation, on the history of transplantation in Saudi Arabia. Dr Ali Alharbi, Country Medical Director and Dr Dujanah Moussa, Deputy Medical Director also from Saudi Arabia, gave us a fascinating insight into the evolution of renal care in the country and Diaverum's role in this. This was followed by an active peer-to-peer learning session, where each participating country shared their best practices & learnings.
With our organisation on a continual and highly ambitious path to unlock new standards of personalised, standardised, efficient and high-quality renal care through digital innovation, the second half of the day saw Dr Carlos Lucas, Director of Medical Protocols and Standardisation, and Suzanne Pearce, Corporate Nursing Director, deliver a presentation on 'AI in CKD care'; this offered a fascinating insight into how Diaverum is exploring potential pathways where augmented intelligence could support clinical decision making. The Scientific Team shared updates on their ongoing projects, as well as future initiatives. Finally, attendees also heard about technical innovations from David Kuraguntla, CEO of Alio Smartpatch.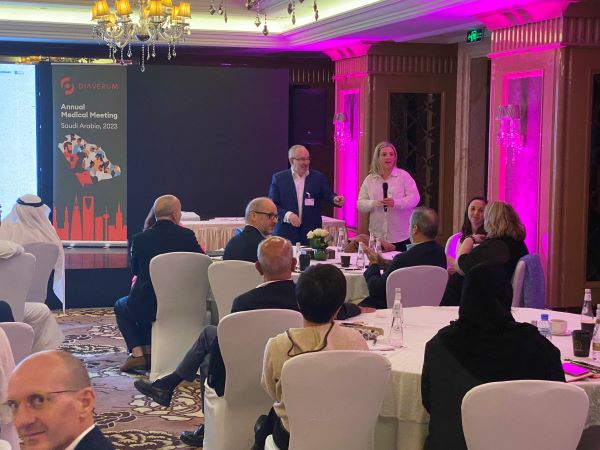 CmO Dr fernando macáRio addresses delegates
Commenting on the event's success, Dr Macário commented: "As always, the Annual Medical Meeting offered a wonderful opportunity for our global team to come together and exchange news, views and ambitions about how to ensure Diaverum continues to provide world-class, life-enhancing renal to our patients, wherever in the world they may be".
"I was equally delighted that our meeting was able to host the Diaverum Awards for the second year running. Hearing the inspirational stories of peers and colleagues from around the world was a very timely reminder of what motivates us as medical professionals to do the work we do, day in and day out".
For his part, Dimitris added: "The work our medical teams perform is key to ensuring our organisation meets its ambitions and consolidates its position as the global leading provider of renal care for many years to come. I came away from the session with a great sense of pride for the our countries' collective efforts".
"I would also like to express my deepest thanks to this year's host nation, Saudi Arabia, for their hospitality. I hope every delegate departed invigorated, inspired and looking forward to our next session in 2024".