In this treatment, your blood circulates through a filter (dialyzer) connected to a dialysis machine. A treatment session usually takes 4-5 hours and is performed at least three times a week.
How haemodialysis works
The procedure is quite simple: sterile plastic tubes, called bloodlines, are connected to the dialyzer. The dialyzer removes the waste products and excess fluid from your blood. The key feature of the dialyzer is a series of thin semipermeable membranes. These membranes act as a barrier between the blood and the dialysis fluid, allowing selective movement of substances to and from your blood.
The combination of the bloodlines and dialyzers is called the extracorporeal circuit. The dialysis machine safely controls the flow of blood through the extracorporeal circuit, which is usually above 350 ml/min. The total volume of the circuit is around 200-300 ml.
How your haemodialysis treatment works
Before you begin your haemodialysis, you need to have a vascular access in place. Vascular access for dialysis is either a fistula, a graft, or a catheter. If you have a fistula or a graft, two needles will be inserted at the beginning of the treatment and removed at the end. A catheter is a plastic tube inserted into one of the larger veins in the body, allowing access to the blood for treatment.
During the entire dialysis treatment you will sit or lie comfortably on a chair or a bed, and you will be able to read, listen to music or sleep. You may also use your computer to work, watch movies or access the internet.
You may be given some medication through the circuit during your treatment. The nurses will also regularly monitor both you and the dialysis machine. When the dialysis treatment is complete, another procedure will be used to disconnect you from the extracorporeal circuit.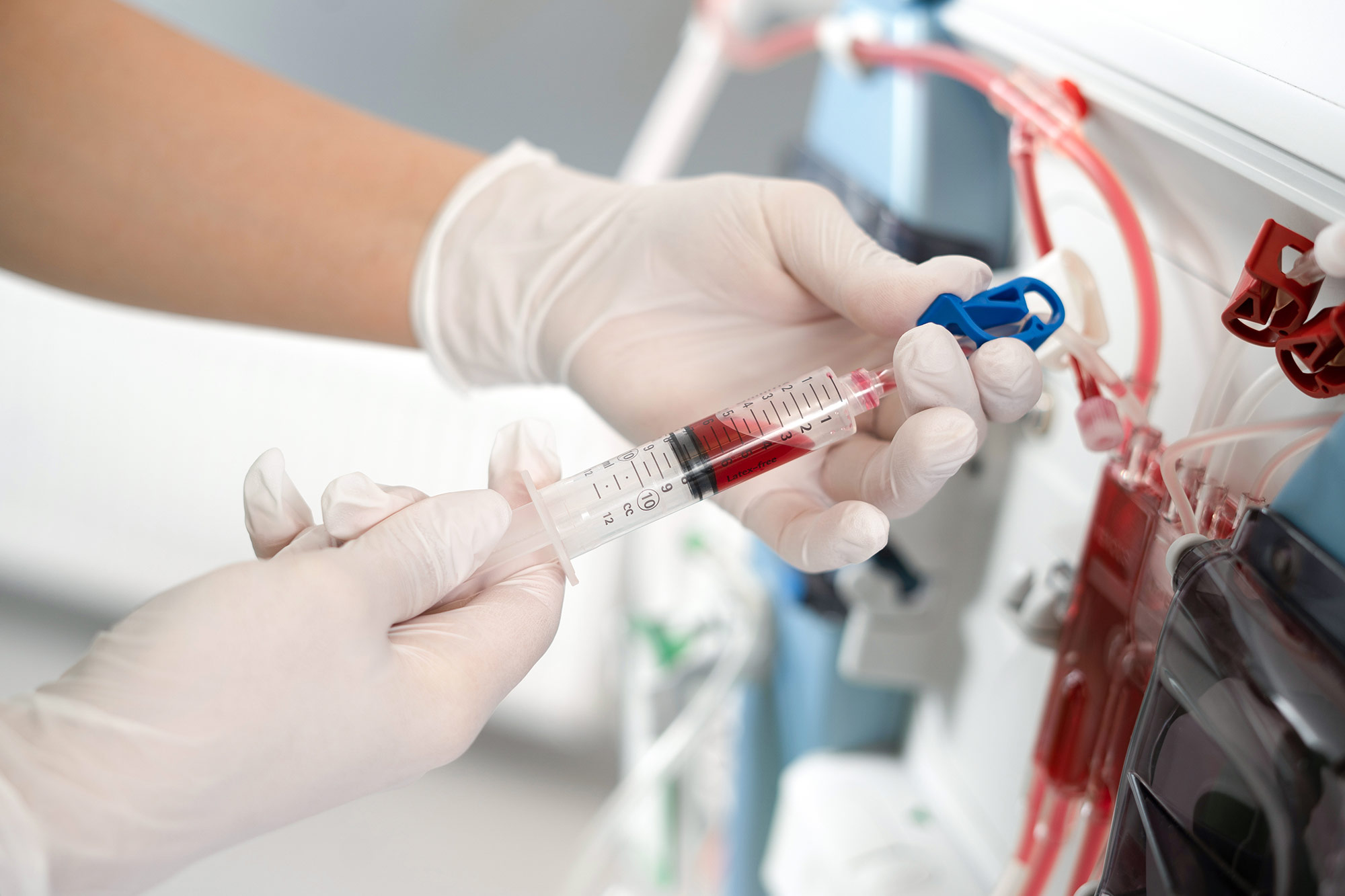 You might feel tired after the treatment
Haemodialysis should not be painful. You are, however, likely to experience some side effects. It is quite common to feel tired after a dialysis treatment. One way to cope with this is to adjust your diet and to exercise regularly. Adequate nutrition and exercise might boost your energy levels. Some people may experience nausea, feel dizzy or have muscle cramps during the dialysis. If you have these problems, you are encouraged to discuss them with your medical team, and they will do everything to help you cope.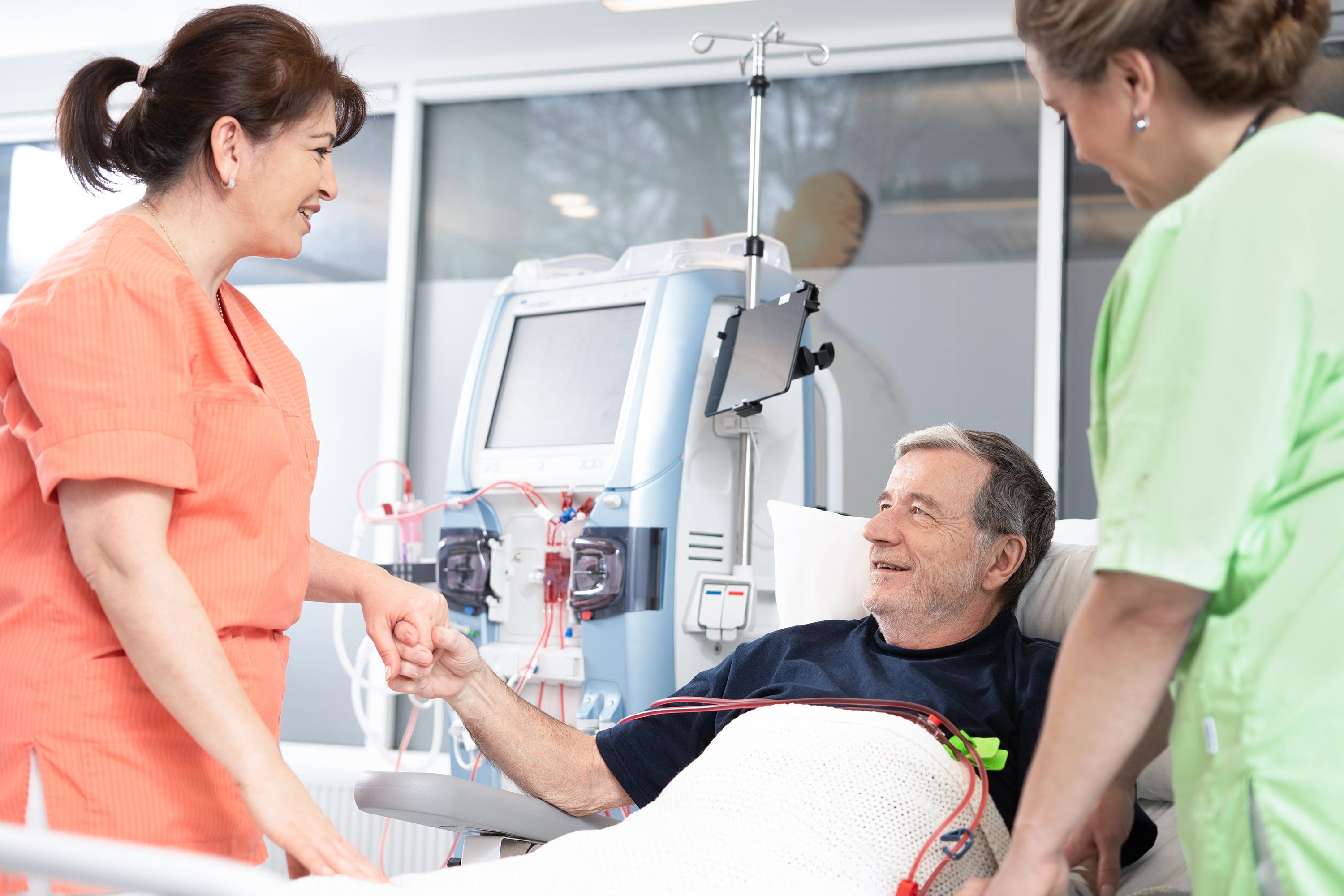 Home haemodialysis
Some countries offer home haemodialysis in addition to in-clinic haemodialysis treatments. A dialysis machine using reverse osmosis (a method for treating the water) will be provided for use in the home and supplies will be delivered once or twice a month. You start learning how to do the treatment at the clinic, with the support of a dialysis nurse. Many people who do home haemodialysis also have a helper who trains with them at the clinic. The training period is usually 8-12 weeks.
During training, you will learn to:
prepare equipment and supplies,
place the needle in your vascular access (fistula or graft),
administer medication,
monitor the machine,
check your blood pressure and pulse,
keep records of the treatments,
clean the equipment and the room where dialysis is done, and
order supplies.
There are several benefits to home haemodialysis:
Home haemodialysis lets you set your own schedule. You can choose treatment times to fit other activities, such as going to work or caring for a family member. Often, patients give themselves more dialysis, which means that they:
feel better and have better blood pressure control
have less restriction on diet and fluids,
save time because they do not have to travel to and from the dialysis clinic, and;
make fewer trips to the clinic (the patient is usually seen only once every four weeks).
The potential disadvantages of home haemodialysis:
a place is required in the home for a chair and dialysis equipment, and
space is needed to store dialyzers, concentrate canisters, disinfectants, syringes, needles, medications, blood tubing, and other supplies.
Self-care and shared-care haemodialysis
Some clinics encourage patients to take an active role in their treatment. Self-care haemodialysis is performed at the usual in-centre dialysis clinics. Self-care is where you are taught how to carry out some or all of your dialysis treatment yourself.
In this type of care, you learn about the procedures required in the dialysis process. You will perform some of these procedures, but nurses continue to assist you. This means that you take a much more active part in the dialysis treatment and sometimes take full control of it.

The length of the training period depends on how much responsibility you take for the treatment. Training is incremental, so you gradually increase control of your treatment.

In some clinics, you may be allowed to perform some or all self-care activities, depending on what you feel comfortable doing. This is called shared care. In this situation, the nurse will agree on a plan with you and will regularly review your shared-care activities.
During training, you learn to do some of the following tasks:
prepare equipment and supplies,
place the needle in the vascular access,
administer medication,
monitor the machine,
check blood pressure and pulse, and
keep records of the treatments.

The benefits of self-care haemodialysis include the following:
More control over the treatment and greater independence,
It often leads to increase understanding and improved management of your chronic kidney disease, which benefits you in the long-term and ultimately improves your quality of life.
Often, there is more flexibility with the dialysis schedule.
You can save yourself time.
If you feel ready to do your dialysis, there are no disadvantages associated with in-clinic self-care haemodialysis.