Patients' medical outcomes and safety are ensured by our standardised, proprietary care delivery model, itself embedded in robust clinical governance and supported by a continuously evolving digital infrastructure.
Our model of consistent care delivery ensures superior medical outcomes and patient safety while in parallel enabling cost-efficiencies which lower the cost of care.
Our services are delivered and monitored through our proprietary care standards and a clinical governance framework including clinical audit, incident management reporting, clinical support and data management tools.
The Diaverum Care Delivery Model has five pillars:
Clinical Standards: policies and procedures that ensure high quality of care and patient safety
Medical Standards: comprehensive therapeutic protocols that optimise medical outcomes through the most efficient care delivery
Performance Measurement: continuous monitoring of medical outcomes
Patient and Staff Education: in both virtual and physical settings
Scientific Research: based on the needs and priorities of renal patients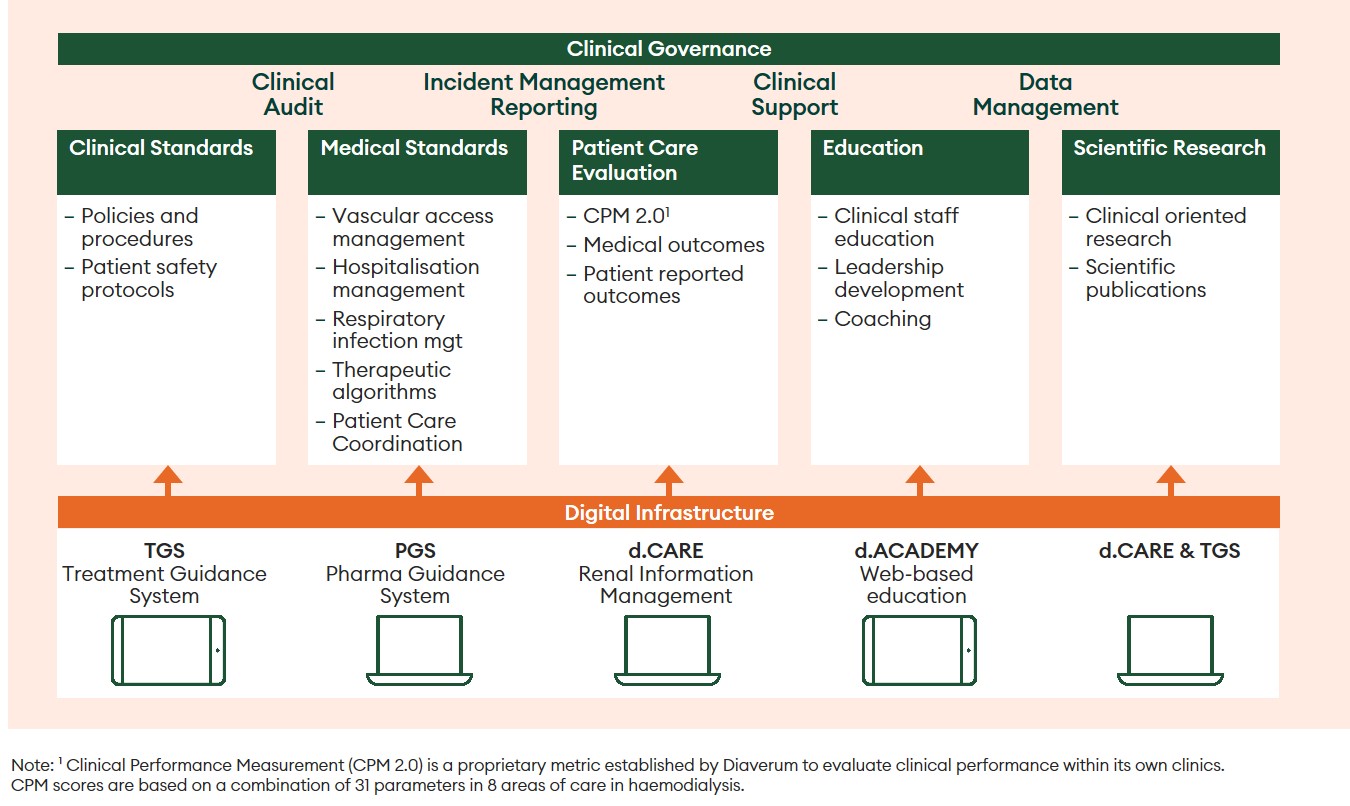 Our policies and procedures are continuously improved through learning from regular internal audits as well as in response to national regulatory demands. Our evidence-based clinical practices are secured through standardised education and training alongside our d.ACADEMY programme.
Transparency underpins our work. At Diaverum we use our proprietary Clinical Performance Measurement (CPM) system to measure and compare medical performance within and between our clinics globally, enabling us to continuously improve our care.
Diaverum's Care Delivery Model is supported by a robust digital infrastructure that includes proprietary software such as the renal information management system d.CARE, the Treatment Guidance System (TGS), Pharma Guidance System (PGS) and our virtual educational platform, d.ACADEMY.
These digital tools enable care standardisation and thus enhance and improve patient safety, workflow management and medical outcomes.
Our services
Kidney care
Our focus is haemodialysis, but our portfolio of treatments ranges from preventive care to transplantation services
Discover more
Diaverum digital
A suite of digital platforms and applications designed to improve treatment effectiveness, efficiency and medical outcomes. Transforming renal care, making it accessible and personal
Discover our digital solutions
Life-enhancing renal care
Benchmark dialysis services, consistently delivered to every patient in each of our clinics worldwide, based on a culture of true care. Because everyone deserves a fulfilling life
Explore our value proposition
Share your feedback
We are committed to enhancing your Diaverum experience
Through the MyDiaverumExperience portal you can submit feedback regarding any experience you've had with Diaverum, that you would like to bring to our attention. You may do so in your local language and anonymously, if you wish.
Submit your feedback via MyDiaverumExperience